NEWS

The first beams of protons circulated in the LHC, giving us the first beam event in ATLAS
---
The LUCID detector spots the first beam events

---
An ATLAS collaborator has been elected to the Swedish Royal Society of Sciences
FEATURES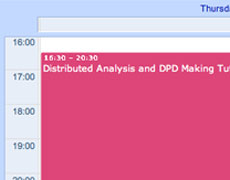 In order to access and analyse the data that comes out of ATLAS, collaborators need to undersand the complex layers of software and how to use them. That's where tutorials come in -- offering collaborators tools and resources.
PHOTO GALLERY
PROFILE
"We have to make sure that we don't lose track of half of the particles coming out from the collisions!" Thijs Cornelissen laughs.
All of the latest tutorials archives published by the University of Michigan ATLAS Collaboratory Project are now available.
SEARCH THE E-NEWS