NEWS
Commissioning work on the muon barrel has been underway for quite some time.
---

"She's the last big piece of ATLAS, so there'll definitely be a celebration on Friday after she's gone down."
---
In February, the SCT team took the opportunity to run a major section of the detector integrated in the ATLAS readout and control, together with the TRT.
FEATURES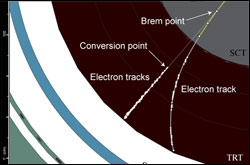 The ATLAS simulation group faces the daunting task of improving both the speed and reliability of the simulation.
PHOTO GALLERY
PROFILE
"How can you come to CERN and not be impressed?" says Kamal Benslama.
All of the latest tutorials archives published by the University of Michigan ATLAS Collaboratory Project are now available.
Muriel offers this week's tip:
Stay zen and take good care of yourself.
A few tips on dealing with the increasing work load