NEWS

Anything but small: the challenge of moving the Small Wheels to the Cavern.
---

Giuseppe Mornacchi tells ATLAS e-news about the SLIMOS role to ensure safety.
---

The CERN Childcare Initiative launches a survey to assess the needs for childcare at CERN.
FEATURES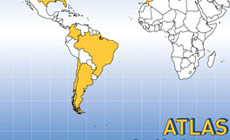 Building up the collaboration with the groups in Argentina, Chile and Colombia was very much boosted by the European Union HELEN project
PHOTO GALLERY
PROFILE

"Cable installation was not my specialty, but it became my specialty!" says Alessandra Ciocio.
All of the latest tutorials archives published by the University of Michigan ATLAS Collaboratory Project are now available.
Tips on getting the most from the collaborative tools available at ATLAS.
CERN meeting rooms