NEWS
Now that the whole ID can track cosmics, the L2 Trigger is modified to process them
---

Managing the noise levels on the BCM – dark currents and mobile phone interference
---

Papadakis, publisher of the photo book, celebrated the book's completion in London
FEATURES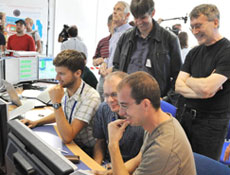 A recap of the progress we've made on ATLAS since the incident in sector 3-4 stopped the beam for this year.
PHOTO GALLERY
PROFILE

"I wanted to do my PhD abroad," says Zuzana Zajacova, a former summer student who returned to CERN.
All of the latest tutorials archives published by the University of Michigan ATLAS Collaboratory Project are now available.
SEARCH THE E-NEWS