NEWS
The access shafts are now closed and sealed

---

Turning up the heat on the LHC beam pipe to achieve the best possible vacuum
---
CERN is infused with the energy of this year's summer students
FEATURES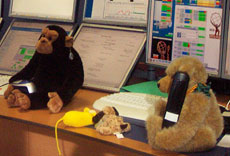 The Operation Tasks Planner will help shift managers keep track of the 600 full-time tasks, seeing that detector operation and maintenance, as well as off-line processing, never lacks for people.
PHOTO GALLERY
PROFILE
"I used to think 'this is impossible to build'," says Raul Murillo of his early perceptions of the mammoth detectors at CERN.
EVENTS
Upcoming event:
Vacation! ATLAS e-News is taking a break in August. See you all in September!
The full programme of ATLAS events.
All of the latest tutorials archives published by the University of Michigan ATLAS Collaboratory Project are now available.
SEARCH THE E-NEWS