NEWS

The muon detectors are
tested in their second
full-system commissioning
run.
---

A photographer captures
ATLAS in 3D for Angels and
Demons.
---
ATLAS collaborators
participate in a fundraiser for
the Hong Kong Red Cross.
FEATURES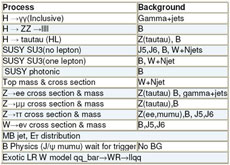 Which processes should be simulated to deal with the first collisions? A task force set out to determine just that.
PHOTO GALLERY
PROFILE
"If you have a dream, you have to go for it," says Sofia Chouridou, who works on the Semiconductor Tracker.
All of the latest tutorials archives published by the University of Michigan ATLAS Collaboratory Project are now available.
SEARCH THE E-NEWS