Helping victims of Sichuan earthquake
2 June 2008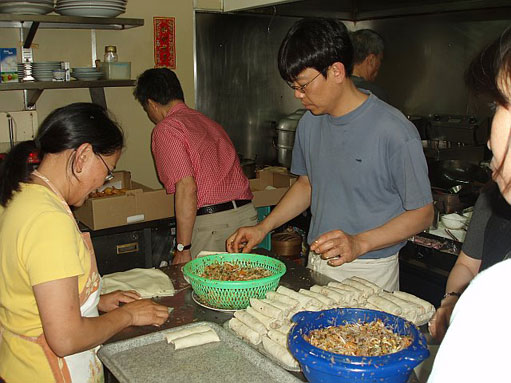 Volunteers fill and roll to raise money for quake victims
---
The Sichuan earthquake which struck China on May 12th measured 7.9 on the Richter scale, according to the US Geological Survey. Official figures from May 28th confirmed the death toll at 68,109, with 364,552 people injured, and 19,851 listed as missing. More than 5 million people are thought to have been left homeless by the devastating quake, though the number may be as high as 11 million. It was the worst quake to hit China since the 1976 Tangshan quake, which killed 240,000 people.
In a bid to help with the disaster relief effort, a group of 15 friends from the International Telecommunication Union and the Geneva Taiji Friendship Class had the novel idea of clubbing together to prepare and sell spring rolls and deep-fried king prawns to their friends and colleagues.
---


Hard at work: making of the spring rolls and prawns
---
"The preparation began on May 13th, and on May 14th the message went out to staff at the United Nations, ITU and the World Meteorological Organization," explains organiser Edmund Tam. By a stroke of luck, ATLAS's Connie Potter found herself at a dinner party where the Asian specialities were being served, and jumped at the chance to get the ATLAS Collaboration involved.
Last week, the ATLAS Secretariat helped coordinate food orders from ATLAS collaborators, raising 1,200 CHF for the relief effort, and providing many of us with a delicious dinner on Thursday night when the food was distributed! Connie described the ATLAS response as "a great show of goodwill".
In total, the group raised 19,512 CHF, which was donated to the Hong Kong Red Cross.
Ceri Perkins
ATLAS E-News