NEWS

CERN management issued a statement after first magnets inspection

---

The plans and schedule to reopen the ATLAS detector during the shutdown

---

How the Inner Detector has been using cosmic rays to hone its precision
FEATURES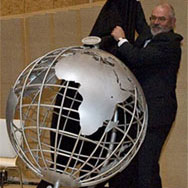 On 3rd October, Grid-enthusiasts gathered - physically and virtually - from around the world to celebrate the official switch-on of the Worldwide Large Hadron Collider Computing Grid.
PHOTO GALLERY
PROFILE

"I like it here," says Andi Salzburger. "After so many years, I consider it home now."
EVENTS
Upcoming event:
21 October LHC Inauguration Event CERN
The full programme of ATLAS events.
All of the latest tutorials archives published by the University of Michigan ATLAS Collaboratory Project are now available.
SEARCH THE E-NEWS