NEWS
---

Status of Pixels, Semiconductor Tracker, and Transition Radiation Tracker
---
Status of Liquid Argon, Tile Calorimeter, and Muons

---
Status of Trigger and Data Acquisition

FEATURES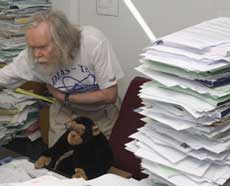 With so many papers lying ahead of us and so many different authors to write them, ATLAS needed a writing style guide. So here it is!
PHOTO GALLERY
PROFILE
"I like getting to the base of a problem," Anthony Morley says, "and you can't get much more basic than fundamental particle physics!"
All of the latest tutorials archives published by the University of Michigan ATLAS Collaboratory Project are now available.
SEARCH THE E-NEWS