NEWS
The ATLAS management gives its point of view on the article published last week.
---
The pixel detector finished commissioning electrical and optical, cooling stalled.
---
The Chancellor of the Federal Republic of Germany visits our favorite LHC experiment.
FEATURES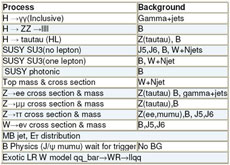 The accuracy of the equipment means nothing when its location is uncertain. Claude Guyot explains how physicists come to understand the detector.
PHOTO GALLERY
PROFILE
"Inside ATLAS, there is not much space!" says Sergei Malyukov, who has spent the last 6 years leading the ATLAS cabling project.
All of the latest tutorials archives published by the University of Michigan ATLAS Collaboratory Project are now available.
SEARCH THE E-NEWS