NEWS
With the LHC start planned for the summer, ATLAS safety measures have to be changed.
---

A memorial fund has been created to continue her work in bringing young Turkish physicists to CERN.
---
The book that will tell the story behind the project.
FEATURES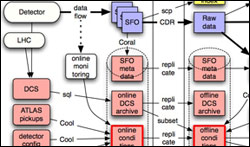 Lots of things go into the ATLAS detector. What we get out from Point1 is a precious stream of information from which we hope to distil our future understanding of particles and forces.
PHOTO GALLERY
PROFILE
"CERN is a completely free and democratic organisation, and people are working here with pleasure," says Tatiana Klioutchnikova.
All of the latest tutorials archives published by the University of Michigan ATLAS Collaboratory Project are now available.
Tips on getting the most from the collaborative tools available at ATLAS.