NEWS
Installation work on the detector is almost complete but there's still work to do.
---
We all give so many talks, we might as well try to give good ones!
---

"When I said we would be visiting ATLAS, everyone wanted to come."
FEATURES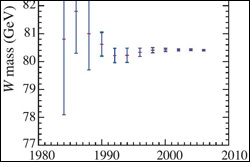 25 years after its first measurement, measuring the W mass with high precision can still reveal a lot about the Higgs boson and more.
PHOTO GALLERY
PROFILE
Many people only know his email address. At last, here is a chance to get to know Emil Obreshkov.
All of the latest tutorials archives published by the University of Michigan ATLAS Collaboratory Project are now available.