29 November 2007
Ceri Perkins
Nationality: British
Position: ATLAS e-News journalist/editor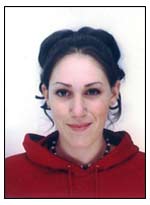 Like Colin and Cristina, I recently completed an MSc in Science Communication at Imperial College London. I was awarded a bursary for the course by the Association of British Science Writers, and this summer I got some practical journalistic training by doing an internship on the science desk of national British newspaper The Guardian.
As an undergraduate, I studied Atmospheric Science at Leeds University, England. This was a broad course covering the fundamental physical and chemical principles which govern the natural environment, with particular emphasis on atmospheric structure, processes and phenomena, atmospheric measurement techniques and current trends in global climate and atmospheric composition. I graduated with first class honours, and was awarded the departmental prize for my research project on volatile organic compounds released by trees.
Perhaps because I come from Lancaster in the north of England, I love the outdoors - whatever the weather. That said, you can't beat curling up with a good book by the fire when the rain is lashing. Other things I enjoy include making things both useful and non-useful (clothes, kaleidoscopes, mess), natural history documentaries and photography.
Being at CERN has reminded me how much I used to love physics, and I'm really looking forward to speaking to many of you about your work and the exciting things happening at ATLAS!