1 December 2008
Chris Oram
Nationality: British Canadian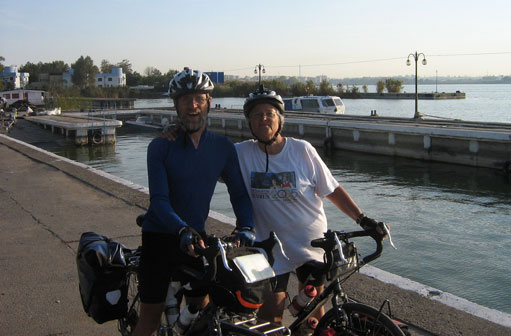 Chris Oram and his wife Margo, biking near the Black Sea in Romania
---
"I've always been an outdoors person," says Chris Oram, echoing the sentiments of many an Alp- and Jura-hiking CERN physicist.

It may come as a surprise that he spent years of study in central London, starting out at Bedford College, London University, which stood in one of the city's largest parks. He studied physics there and proceeded to Queen Mary College of London for his PhD. However, he did his research in Vancouver, Canada.

"After London, Vancouver is fantastic. It was like arriving in heaven," Chris recounts. After years of hiking around England, he took up skiing – cross country and downhill – in the mountains surrounding his new home.

He lived in a communal house during his doctoral research, which also tended to be a "flow-through" for people looking to enjoy the mountains surrounding the city. One of the people who stayed over at the house was his future wife, Margo. Oddly enough, their first date was a party rather than a hike.

His first introduction to CERN was through OPAL, and many years later, he was leading a different project here as convener of the Hadronic Endcap Calorimeter. "That's my love in life – building large pieces of equipment," says Chris.
Well, apart from the outdoors, that is. Chris's daughter, Louise, shares her parents' interest, and she took up orienteering at 13 years of age. She now runs for the Canadian national orienteering team and, like her rock-climbing brother John, studies computer science at university.

Although both of his children enjoy computer science, Chris avoids it when possible. "Between my undergraduate and my PhD, I worked for a year as a programmer," says Chris. "It put me off programming for life!"

Chris and Margo used to run with Louise, for the first seven years. He admits: "I don't think we would have ever been that fit if it hadn't been for my daughter."

But as they reached their fifties, they took up cycling to save their joints instead. "Well, and we were bored of running," says Chris. For both of them, it was a return to an activity enjoyed in their youths.

Chris recently looked back on his experiences as chair (and deputy chair) of the Collaboration Board. However, Margo didn't readily give up her husband to CERN twelve times each year, so the couple has made up for that lost time by taking trips together.

Chris started the position in 2005. In January of 2006, they took their first cycle tour in over 20 years, 1,800 km through Cuba. Since then, they've traversed parts of British Columbia and Washington State, Spain and Portugal, and even Eastern Europe. In January, once Chris has officially finished with the responsibilities of his four-year position as a leader of the Collaboration Board, they're planning an epic one-year journey from Bangkok to London.

Chris has seen parts of Asia as a scientist. He visited Nanjing, China, as convener of the Hadronic Endcap to check production capabilities. "I got to go into some huge factories," he recalls. He's also seen Beijing, Shanghai, Xi'an, and the Japanese cities of Shimoda and Tsukuba.

Still, he doesn't speak much of the Asian languages. "I have a hidden advantage there – my wife is a good linguist," says Chris. Margo is currently learning to speak Mandarin and decipher a few Chinese characters.

You can check out some of their proposed routes on their cycling website. Chris is interested in travelling the Pamir highway: "which is reputed to be the most scenic highway in the Himalayas." But he thinks that the leg from Thailand through Laos to the Yunnan province of China will be more interesting culturally.

"I hope that Iran remains stable," says Chris, preferring the route that skirts the northern edge of the country. "It's an interesting country in that it has an immense cultural hospitality," he says. "The problem is making any headway because people want you to come in and have a cup of tea."

In addition to planning the route, he and his wife have to decide what items are worth carrying. "Evenings are spent discussing 20 grams here and there. We'll be carrying about 20 kilos each."

In physical preparation for the journey, Chris is doing some "light" training, cycling up to about 1,000 metres on the mountains outside Vancouver. However, his cycling philosophy is to start the trip easy and train along the way. "It's not just your legs; it's your bottom," he warns. "The trick is two pairs of cycling shorts. That's the only way I know how to do it."

Rather than analysing the data from the LHC when he and Margo finish their journey (which he admits, they might be worn out after three months), he intends to start planning for the Super LHC hardware upgrades.

Katie McAlpine
ATLAS e-News