14 April 2008
Lucia Masetti and Christian Schmitt
Nationality: Italian and German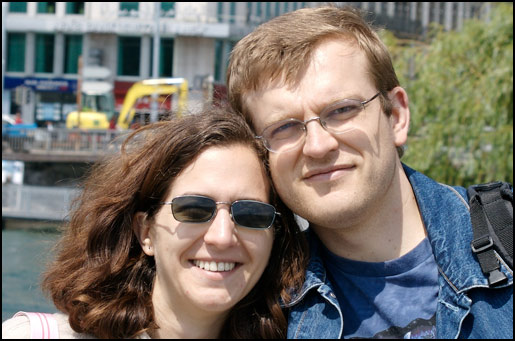 Lucia Masetti and Christian Schmitt
---
CERN holds a special place in the hearts of Christian Schmitt and Lucia Masetti. Not only are they both working on the ATLAS project, but also the recently wedded couple first met each other on the summer student programme at CERN in 1999.
"We were both on our way to our diplomas," says Christian. "Lucia was studying in Italy and I was at Freiburg in Germany." Student programmes can be very busy, leaving little free time for socialising, says Christian. But in what little spare time the two had, they soon hit it off.
A few years later, Lucia's PhD brought her to Mainz in Germany. "I did mine at the University of Wuppertal," says Christian. "So although we were at two different universities still, there wasn't so much distance."
"We were able to meet most weekends," says Lucia. "It made things easier." But the academic life tends to involve a lot of travelling, and the two soon moved again – Lucia to NA48 at CERN, and Christian to the DZero experiment at Fermilab's Tevatron accelerator. In 2006, Christian moved again, filling the twin roles of ID offline commissioning coordinator and the TRT software coordinator on ATLAS. Despite his work on the Tevatron, Christian was impressed by the sheer size of the ATLAS project. "Maybe the inner detector of ATLAS is similar in size to DZero in terms of number of people working on it. There's a large community here, and it's still growing!"
After getting her PhD, and with the NA48 project drawing to a close, Lucia began looking for another post. "The idea was that since Christian got the CERN fellowship, I would look for a position that allowed me to stay at CERN too," she says. "Fortunately, the University of Bonn had something like that on offer, and I applied."
Lucia's application with the University of Bonn was successful, and she arrived at ATLAS early in 2007 to begin a three-year placement working on the Pixel detector. Although the two are now working at the same physical location, most of their time is occupied by work. "I'm having to work late nearly every night," says Lucia. "I guess we were seeing each other more often when we were both working in Germany at different universities!" adds Christian.
The two are enjoying their time at CERN, despite the heavy workload. "It's really one of the unique places, with people from all over the world," says Christian. "There's a good companionship within the organisation and it's so interesting to work in such a multicultural environment."
Christian's fellowship ends early in the summer, and the two are already beginning to plan their next move. "I'll try to stay at CERN for at least as long as Lucia's here," says Christian. "But we might have to be separated again for some time. We'll know more by the end of June."
Colin Barras

ATLAS e-NEWS