The long drive to Dakar
29 September 2008
Katharine and Pierre with the vehicle that will take them across western Europe and northwest Africa.
---
Christmas means many different things to many different people. But few of us would envisage spending deepest mid-winter tearing across the desert in a convoy of cheap second hand cars, kicking up dust and squinting into the sun.

That's exactly what Liverpool University PhD student Katharine Leney is planning to do this year, as part of the Plymouth Dakar Rally. Katharine, who works on Higgs analyses and data quality at ATLAS, is planning to spend her three week winter vacation driving from Geneva to Timbuktu to raise money for charities working in Africa, and she wants your help.

Inspired by the infamous Paris Dakar Rally – a cash-soaked off-road endurance race with a bit of a lawless reputation – the "Plymouth" version is all about social conscience. "You have to have a car which costs £100 or less, and you're only allowed £15 to spend on spare parts and preparing the car," explains Katharine, who will be footing the bill for the diesel fuel and offsetting the carbon emissions, which will amount to around 20 trees.

Getting a place in the 30-vehicle line-up is a competitive business, with teams being chosen on the basis of what skills they have to offer the convoy. "If one team breaks down in the middle of the Sahara, everyone has to pull together," says Katharine, adding, "It's not a race, and there's no prize – the goal is to get the car to the finish." Once they reach their destination, the cars will all be auctioned for the Mali Rotary Club, but Katharine and her team mate, boyfriend Pierre, wanted to go one step further with their fundraising:

"Our idea is to park the car at the ATLAS Start-up party at Prevessin on October 4th, and get people to write or draw on the car in return for a donation," she says, adding that they also hope to park up outside Restaurant 1, weather permitting, at lunchtimes during ATLAS Collaboration Week.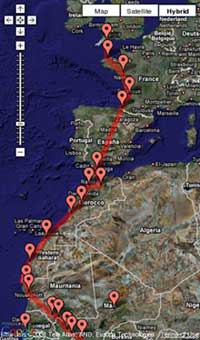 The money they raise from these donations will be going to the Mali Development Group, a UK-based charity which works with a sister charity in Mali on community projects such as building schools, AIDS awareness, contraception advice, helping women become financially independent, and training street children so they can work.

Their 4000 mile journey will begin on December 20th, and take them through France and Spain to Gibraltar, over to Morocco by ferry, then down through Morocco, Western Sahara, and Mauritania. Finally they will cross into Mali, and double back on themselves into Timbuktu.

In advance of the drive, Katharine is collecting old pairs of unused spectacles, which are in desperately short supply in Mali, so please search out any forgotten pairs you have lying around at home. And if you're in town for ATLAS Collaboration Week or the ATLAS Start-up party, look out for Katharine and her car, and please give generously!

Ceri Perkins
ATLAS e-News