2010 ATLAS Summer Students Succeed!
7 September 2010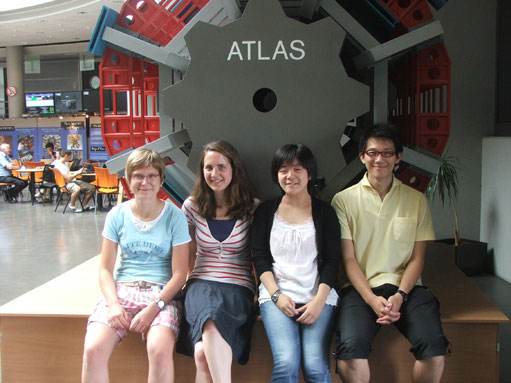 From left to right: Magdalena Kusz, Elina Fuchs, Sumire Shimojima and Jiayin Wang
---
As the first summer student lectures began, one could feel electricity filling the globe. Students from all over the world gathered and began soaking in their new reality – their summer internship working at CERN. As anticipation subsided, the magnitude of this opportunity was not difficult to appreciate. Even toward the end of the summer, the euphoric gratitude remained. For the most part, the students working on ATLAS were so impressed with it that they would have chained themselves to a detector so that they would never have to go back home. Their enthusiasm and appreciation were also apparent in their words.…

One of those declarations of gratitude to ATLAS came from Sumire Shimojima, a Japanese student who was analyzing ATLAS pixel detector data. Sumire said, "It's just so exciting. We're looking at new data that was just taken yesterday. It's not on the books. It's just so new and so exciting. It is amazing!" Sumire also discussed her experience at the hostel with her new friends. There she heard ideas and saw new ways to relate that she'd never known existed before.

The range of experience was broad though. Many students I talked to had a different perspective and approach to their time here. For example, Jiayin Wang, a Japanese student knew he deliberately wanted to make this a trip reserved for introspection about his future professional goals. Jiayin wanted to explore the reality of being a particle physicist juxtaposed to the reality he already knew as a young teacher working with students. Jiayin was working on a research and development project for the ATLAS MicroMEGAS detector and said, "I appreciate that I was given a chance to touch the professional work of researchers and get a picture of it, which was really useful for me to make a good decision for the rest of my life." He came to realize that he wanted to be nearer to people, actively helping them to "...realize their dreams." While here, he made the very important decision to pursue this specific path.

Elina Fuchs, a German student who worked with the ATLAS photon reconstruction group, thought she would surely go into theoretical physics as a postgraduate student, but being here might have changed that opinion. "Now I realize that with real data, rather than with simulations, it's much more interesting, so now I'm considering going back to experimental physics," Elina explained, happy that she had the opportunity to learn this. She was clear, focused, and ready to take-on the world of particle physics.

Magdalena Kusz, a Polish student, felt similarly to Elina in that her interests were also peaked by the inclusion of actual data, though with an entirely different emphasis because she is a young computer scientist. Magdalena expected to be programming in C++ for ATLAS, but she, "...didn't expect [to be] dealing with the KDE KIOSK framework," nor did she expect to enjoy the incorporation of physics as much as she did. Learning many new things during her time here led Magdalena to admit the whole ATLAS experience very much outgrew her expectations. "Meeting new very interesting people among other summer students and workers, and also living in the center of CERN... was a great experience." She liked listening to people in the cafeteria while they discussed physics problems, and she said, "It is inspiring that everyone is really passionate about projects; it creates a great atmosphere."

It was fun to hear each student talk about their favorite moments. Not surprisingly, they very much liked being with each other. It seems that the experience of staying at the hostel and sharing a common area in the evenings really touched them and left an indelible mark on their time here. All were obviously impressed with these experiences.

Jiayin also had some advice for future summer students. He noted the difficulty of studying in a second language saying, "Summer students coming from non-English-speaking countries should prepare hard before they arrive. Also, those who tend to hesitate at asking questions should overcome it before they arrive." Surprising to hear from someone who's English was nearly perfect…

Additionally, according to a few students, administrative aspects of the summer program could also use a bit of fine tuning. Some lecture material was repeated several times, and one mentioned that perhaps there was a need for the speakers to crosscheck their lecture content while in the planning phase as to avoid this from happening.

It should also be mentioned that this year again, thanks to financial support from Akbank, and from the CAST and ATLAS collaborations, three additional Turkish students were admitted to the program as Engin Arik Fellows. This foundation was established in the memory of Prof. Engin Arik and her colleagues who perished in a plane crash in December 2007. This year's fellows were Doga Can Gulhan, Deniz Gunceler and Duygu Tarhan. This foundation aims to continue Engin's tireless efforts to bring great Turkish students to CERN.

Overall, the ATLAS students were fairly ecstatic to be here. They were exposed to many career and life-changing ideas and opportunities that they had never encountered before. Definitively, the CERN summer student program has impacted many students' long-term goals.

Sarah McGovern

ATLAS e-News